Choose to Accelerate and Scale Your Business
By Swatil Binte Mahmud, Lava Protocols
One of my friends left their full-time corporate job and invested their time in building their startup business. She did this back in 2017 when most of us were concerned about finding a job, any job, which paid our bills. Startups were not so common in Southeast Asian countries back then which made everyone skeptical of her decision. However, things have changed immensely in the last few years. We have startups in every corner of Southeast Asian countries. This is creating more opportunities for the youth to come up with innovative and digital ideas. The ones who made it are now looking for ways to accelerate business growth and scale their business in digital marketplaces.
Do you think it is easy to transition from a startup company to a scale-up company? It is easier for those who are investing in relevant technology. Here are some of the crucial things you need to know to efficiently grow your business, scale up in digital spaces, and build lasting customer relationships.
Growth Challenges
Most startups are built on future-proof processes. They have agile internal workflows which enable organization-wide collaboration, and they can deliver personalized customer journeys across all channels. The way your business processes these day-to-day activities is the engine of your growth. But as your startup grows you need to be concerned about funding. At the same time, you should be open to different types of funding. All businesses need access to constant funding support which will ensure the stable growth of your business. This is why your target should be to attract the interests of venture capitalists and investors. Once you get their attention and secure funding, your next step is to spend that funding to achieve maximum growth of our business. This is why you should focus on building an employer-of-choice workplace culture in your startup. You need to focus on driving talent acquisition and retention and prioritize collaboration and innovative thinking.
Growth Drivers
What drives growth for businesses? If your startup is fairly new and you need help, there are expert insights from trusted mentors that can help fill your scalability knowledge gap and accelerate your business growth. You can develop an effective growth strategy for your business once you learn to prioritize the following three critical growth drivers:
Customer centricity: Always put your customers at the center of everything to drive personalized and intuitive customer journeys in all your touchpoints

Smart investment: Allocate resources to key growth enablement areas which will positively impact your revenue

Process optimization: Improve the productivity of your business with automation and digital tools that optimize your workflows and reduce operating costs
All three growth drivers can be tapped into with the help of Salesforce. With Salesforce, you can have customer relationship management software that delivers a 360-degree customer view, get real-time reporting that informs investment decision-making, and automation tools that optimize your business processes.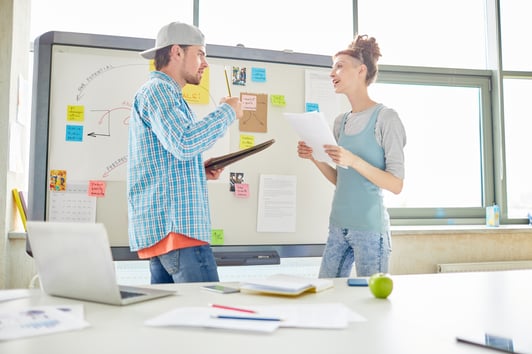 Accelerate Growth with Salesforce
Salesforce organized a MasterClass Accelerator 101 webinar to connect startups with the expert mentorship you need to navigate Southeast Asia's vibrant USD$360 billion internet economy. The webinar talks about how you can innovate, grow, and scale your startup business. It also gives information on how to use the right tools from the right people for your business! The webinar will also cover:
Things to keep in mind when fundraising and how to get noticed and funded

The trends in startups that have successfully raised funds recently

How to build your startup with scalability in mind

The importance of setting a company culture to scale properly

How to choose the right tech stack to support your business growth

Prioritizing data and being data-driven to improve your productivity and operations
Small business is big business. We have entered a new era of business and marketing where small business owners are giving competition to big businesses. The right technology can give startups the agility and competitive power of a large enterprise business owner. This is what happens at Salesforce! They are helping their customers save money to scale their business efficiently. You can use Sales Cloud and Service Cloud, products of Salesforce, to create a single source of customer truth, deliver personalized customer journeys, break down departmental silos, and create collaborative workplace cultures that drive efficient growth.
Today is the day you can choose to transform your high-potential startup to become a highly-successful company by choosing to grow with Salesforce.
Lava Protocols is an authorized Salesforce Partner. Want insights into data analytics? Drop us an email to: hello@lavaprotocols.com.