Why Collaborative Selling Is Key to Unlocking Better Customer Relationships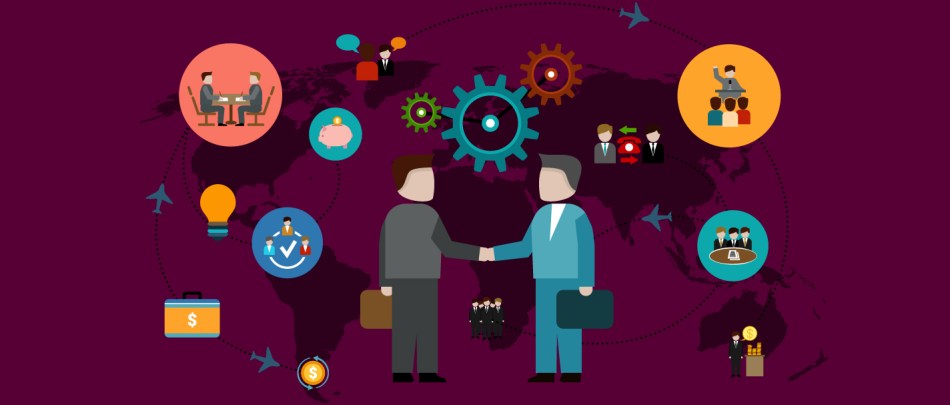 by Tiffani Bova
A salesperson rarely does it all on his or her own. While one individual tends to be the singular face to the customer, there's often a lot of collaboration going on behind the scenes. Whether working with the finance department on pricing, marketing on leads, pre-sales engineers on designing solutions, or legal on negotiating a contract — essentially it takes a village to close a deal.
But what exactly is collaborative selling, why does it matter, and how can you ensure your team is set up for success?
WHAT IS COLLABORATIVE SELLING?
Collaborative selling isn't exactly a new concept. Behind the scenes, salespeople have always relied on others to help them respond to a RFP, gain approval for special pricing, and even 'win' a deal. The difference is that today, the behind-the-scenes resources are becoming more customer facing and collaborative in the actual sales process. The pre-sales engineer or subject matter expert might attend sales meetings. The head of service will meet with the customer to discuss ongoing support. Your clients' CIO could have their questions answered directly by your own IT resources. In short, team selling is everywhere you look.
To be clear, we're not defining collaborative selling as an us-versus-them situation. Just as the word 'collaborative' implies, this model of selling is more like a committee making a decision of what they're going to do. While your ultimate goal may be to win new business, today's customers won't tolerate you selling at them. In fact, 79% of business buyers say its very important to interact with a salesperson who is a trusted advisor that adds value to their business. Sales teams need to embrace this role of advisor, guiding both sides toward a mutually beneficial arrangement. In collaborating with the customer, listening to their needs, and offering insight regardless of whether you benefit or not, you're creating a stronger relationship that tells your customers that you value them, not just their money.
HOW COLLABORATIVE SELLING IMPROVES THE CUSTOMER EXPERIENCE
About a decade ago, changing customer expectations began to make the purchase process much more complex. It's not that companies suddenly decided to complicate their buying process, but that the pool of technology-buying decision makers at any given company is much larger than it once was. The procurement team was also involved. They may have created a short list of products to consider, pulled in the right executives, handled negotiation, and then managed ongoing licence compliance. If you were interested in up-selling or cross-selling additional products, you had to go through that team. Fast forward to today, and it might feel like everyone from product users to the IT team to lines of business want a stake in the buying process. Because buyers have more knowledge and control of the selling process than ever before, they expect their salespeople to be prepared, too. A study from Salesforce Research shows that 83% of business buyers say interacting with a salesperson who has intimate knowledge of their company's products or services is very important. Sales teams must become experts in understanding their customers' goals.
For a salesperson to completely feel prepared to meet buyers' expectations, they need their own superteam for support. In spearheading their own team of subject matter experts that can rapidly collaborate and exchange information, sellers can demonstrate that they have more in-depth knowledge and robust support than their competitors.
Another added benefit is that the collaborative selling process increases advocacy from customers and your partners. For example, say a pre-sales buyer has a question and they ask it in a collaboration group. They'd receive the answer from your team and partners looped into the conversation, creating a community feel and establishing a connection early in the sales process that extends throughout the customer journey — possibly creating long-term growth potential. Ultimately, this collaboration improves customer and partner experiences by strengthening the sales process and building trust.
ARE YOU SET UP FOR THE COLLABORATIVE SELLING PROCESS?
You probably have some form of collaborative selling in your sales process already. Here are three questions to ask yourself if you want to maximize your efforts and ensure you're delivering great experiences with every interaction:
1. Can employees easily collaborate?
Companies have a huge opportunity to provide positive customer interactions when they empower every employee to make consumers happy. When employees are armed with the right technology and tools at their disposal, they're on their way to providing consistency and continuity in every interaction. Employees can make smarter, data-driven decisions based on the collective data available, and work closely together to share information and resolve issues fast.
2. Are your marketing, sales, and service teams connected?
We often hear about the need for sales and marketing alignment to close more deals efficiently. But there's a third puzzle piece that's not mentioned as often: service. Today, businesses are competing on customer experience, and when these three teams are working together, brands can give customers a consistent, intelligent experience across all touchpoints. According to the "State of the Connected Customer" report, 75% of consumers expect companies to provide a consistent experience wherever they engage with them. It doesn't matter if your customer is engaging with your brand through a website, social media, mobile, or in-person — they just want familiarity and recognition in each interaction. In connecting all of the data from each team to form a shared, single view of the customer, each line of business can deliver connected experiences that speed the sales cycle.
3. Do your sales, marketing, and service teams share the same metrics?
It's one thing to have different teams' data connected together, but if those teams' goals and metrics differ vastly, customers will still suffer a disconnected experience. Business metrics are often disconnected on the most basic level. Marketing is tracked by leads, sales is measured by quantities sold, and service based on calls resolved and closed. These disparate metrics are pulling everyone in different directions, instead of unifying around the customer. More brands are recognizing this and are prioritizing customer experience measurements across the board. When teams align around the customer and share common performance metrics, collaborative selling becomes a more natural fit where all teams are tracking toward the same end results.
Today's potential customers are already smart and knowledgeable about your company and products, and they're hungry for more information. To meet their expectations, companies cannot rely on sales alone to close deals: it needs to be a true collaborative effort between multiple parties all working toward shared goals. By empowering individual employees to collaborate, connecting your sales, marketing, and service teams' data, and establishing similar metrics for success, the whole company can execute an efficient collaborative selling model that puts customers at the center of your business.
Lava is an authorised Salesforce Partner in Malaysia and has more than a decade of experience in cloud solutions which includes marketing automation, CRM implementation, change management, and consultation. We pride ourselves in not just being a CRM partner but in also understanding the needs of our customers and taking their business to the next level.