Doing More Than Just Using Metal Straws And Recyclable Bags
Did you know that Malaysia produces approximately 38,000 metric tonnes of waste daily?
And where do they go?
24% goes through waste separation and recycling.

The remaining 76% goes to landfills.
The above statistics was quoted by Housing and Local Government Minister Zuraida Kamaruddin in an article by The Star last year.
Question is, what are we going to do when we run out of landfill space?
Some might say:
"I'd be dead by then, so I don't really care."
"The government or relevant authorities will figure it out."
"It's not my problem."
A lot of us have this don't-care-worry-later mindset.
What Do We Do?
To be fair, we have made some efforts to manage rubbish more responsibly. Examples include the various initiatives taken to reduce plastic usage:
Ban on plastic bags and polystyrene food containers (started in Sept 2017)

Ban on plastic straws (effective Jan 1, 2020)

Sale of reusable shopping bags at hypermarkets and supermarkets

Charge of RM0.20 to purchase plastic bags over the counter.
Source: The Star and The Malay Mail
While this is a good first step initiated by the government, it would take much more than just reducing plastic usage to save our environment. In fact, it would require the effort of the entire nation.
Using Technology to Save the Planet
Aware of this pertinent issue, Lava Protocols wanted to get its employees involved in managing waste responsibly. We heard about iCYCLE, a solution provider in waste separation and recycling. What piqued our interest was the fact that they use technology as a platform for recycling and operated using a reward system. Its founder, Dr Tan Ching Seong, came up with the idea when he was advocating recycling to his neighbours back in Pulau Pangkor.
The concept of iCYCLE is simple: For every KG/unit of recyclable you send to them, you get recycle points (RP). These RPs can be exchanged/ redeemed for merchandises/ cash voucher/ is convertible to cash. Cool huh?
In conjunction with the collaboration between Lava Protocols and iCYCLE, the iCYCLE team paid a visit to the Lava Protocols office on Jan 10, 2019 to educate employees about the iCYCLE app and how to discard our rubbish responsibly.
What Items Can Be Recycled?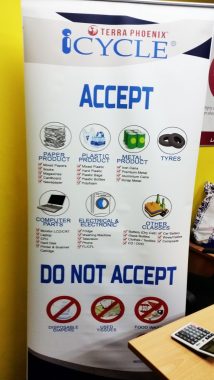 Paper

Plastic

Metals

Electronics

Glass

Bulbs and batteries

Clothes and textiles
What They Don't Accept
Food waste

Used tissue
Wood items
Disposable diapers
6 Simple Steps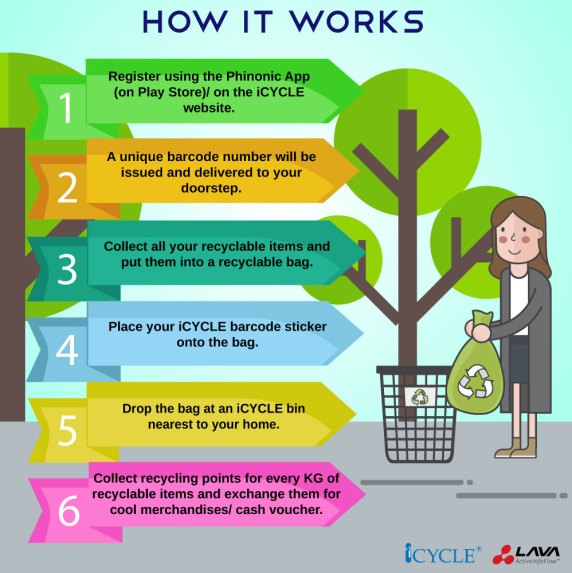 Easy right?
Note: For info on bin locations, visit the iCYCLE website.
If you have run out of barcode stickers, simply write down your barcode number on the garbage bag (this number can be retrieved from the app).
Additionally, if you login onto the iCYCLE website, you can see how much rubbish you have recycled over a period of time, how many RPs you have collected, and how much carbon footprint you have reduced.
If you'd like to know get more details about the app/ if you'd like to collaborate with iCYCLE, you can visit their website.